Smalldog Media is Evan Donn,
filmmaker & creative technologist.
I'm a freelance creative technologist with over fifteen years of professional experience in interactive, online and event media, currently based in Philadelphia, PA.
I produce a variety of online media - promotional & marketing videos as well as short documentary & narrative films. Specific areas of technical expertise include Cinematography, Final Cut Pro, Adobe After Effects and Apple Color.
I also build interactive media, mobile and online applications using Node/Express and PHP/Symfony primarily backed by MySQL databases and deployed on custom Amazon EC2 instances. For front-end work I use hand-coded, standards-compliant CSS/XHTML & Javascript (jQuery & Backbone). I also have extensive experience deploying cross-platform mobile apps on the PhoneGap platform.
In addition I have an understanding of design and UI fundamentals and a strong background in Adobe Photoshop & Illustrator, but do not consider myself a designer - I generally try to work with better designers than myself to bring their work to life.
You probably don't want to hire me.
You know the saying "Jack of all trades, master of none"? That's me.
If all you need is a video editor there are dedicated ones who are better than me. Likewise, if you just want a PHP developer, someone who does nothing but code might be a better choice.
Of course, sometimes you don't need a specialist.
Sometimes you need someone who can see the big picture and help turn an idea into reality. Someone to not merely complete a task - but help define it. Someone with a broad understanding of both the technical and creative sides of online media. Someone like me...
If that's the case - maybe we should talk.
- Evan
evan@smalldogNo Spam Please-media.com
twitter: @smldg

Nutanix 'Explore Your Cluster'
As Nutanix prepared to emerge from stealth mode and reveal their product to the public they wanted a way to help people understand the technology that was contained in their solution.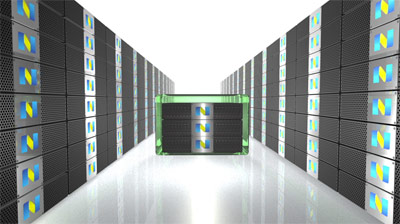 I created a 3D model of their hardware in Cinema4D and then built an animation around it which illustrated both the hardware contents as well as the conceptual model of their scale-out capabilities. I then wrapped this animation in a flash controller in order to allow the user to both control playback and explore the hardware components at their leisure.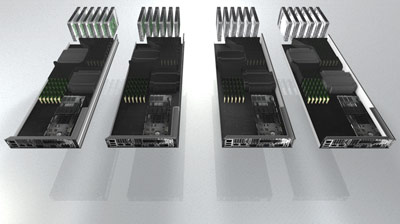 Click here to view the interactive
Features:
3D animation
Interactive navigation and playback
Technology:
Nutanix Project Colossus Video
Nutanix's "Project Colossus" is a 50-node configuration of their combined server & storage solution, designed to allow testing and validation of the company's performance claims.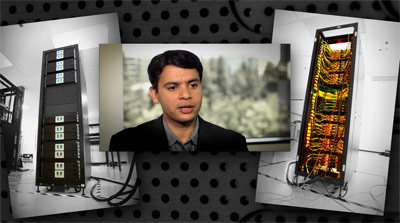 When the performance testing was complete Nutanix prepared a press launch to announce the results, and decided they wanted a video to highlight the results of the project and their product. With time drawing short to complete the video before the press release I created the video entirely using existing assets - combining graphics, still photography and footage from a previously shot interview.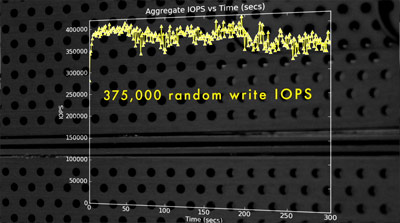 Click here to watch the video now.
Technology:
After Effects
Apple Final Cut Pro & Color
Original product photography
Local Biz Blogs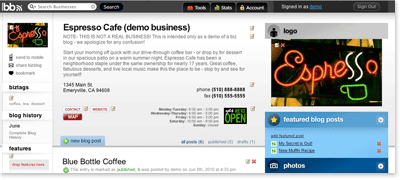 Local Biz Blogs is a blog-based marketing platform helping small local businesses with online promotion. Each business has a full business listing, blog and a variety of optional tools with which to customize the page content to their specific business needs.
LBB also has a full business directory with searchable localized listings - also available as a white-label hosted application allowing local business groups to provide a directory of their member businesses.
I am a co-founder and CTO of the company, architected and wrote approximately 95% of the site code and designed and administer the hosting and automated backup systems.
Technology:
PHP/MySQL on Symfony framework
Hosted on Ubuntu server on Amazon EC2 & S3
Paypal PayflowPro integration
Features:
Full-featured blog with comments, tags, archives & RSS feeds
AJAX in-place editing
Custom content tools - coupons, events, menu, photos, links, etc
Sharing options - send to friend, send to phone, social bookmarking, etc
Full stats tracking visitors, referrers & search terms, plus weekly summary emails
Business directory - search businesses, blogs, coupons and events with any combination of keywords, tag, proximity and category.
SEO optimized
It Donned On Me
"It Donned On Me" is an award-winning competitive filmmaking team from San Francisco - we compete primarily in timed filmmaking competitions like the 48 Hour Film Project, 7 Day Film Challenge, and International Documentary Challenge.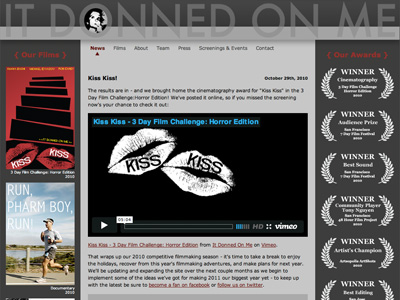 We've completed 21 short films (13 narrative/7 documentary) in competition over the past four years, won 20 awards and 16 additional nominations.
The team is an offshoot of several classes I taught at the College of San Mateo (Final Cut Pro, After Effects, and DV Workflow) - many of the current team members are former students from these classes.
I am one of the team founders and perform a variety of roles depending on the film - writing, directing, cinematography, lighting, editing, color correction and visual fx. I also designed, built and maintain the team website.
Featured Films
Four Pauls: Bring Back the Hat!
Winner, Best Cinematography & Best Use of Historical Genre
International Documentary Challenge, 2011
Currently airing weekly on the Documentary Channel
Stick & Pound
Winner, Best Direction & Best Cinematography
International Documentary Challenge, 2008
Sur Mesure: Journeys in Transpersonal Haberdashery
Winner, Audience Choice & Best Actress
San Francisco 48 Hour Film Project, 2009
Intrinsic Self
Winner, Best Editing
Nominee - Audience Choice, Best Sound, Best Picture
7 Day Film Festival, 2009
Technology:
Cameras: Canon 5DmkII (DSLR) & XHA1 (HDV)
Final Cut Pro & Apple Color
Adobe After Effects
Dual system sound sync via Pluraleyes
Site: hand coded XHTML & CSS
Chicago History Museum Faces of Freedom
Working with Group Delphi I developed the interactive portion of the Chicago History Museum's new "Faces of Freedom" exhibit.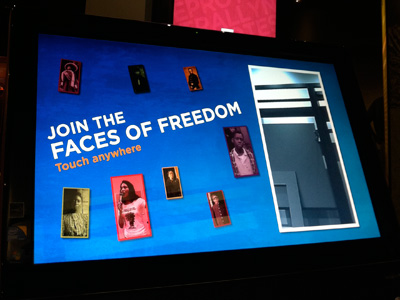 Visitors to the exhibit are presented with a touch-screen kiosk which prompts them to become part of the exhibit. They first select several words that describe actions they would take for their freedom, then are given the choice of selecting a photo of a historical figure or taking a photo of themselves. Once the photo is taken or selected the image and words are combined and appear on vertically-stacked plasma displays located on two columns in the exhibit.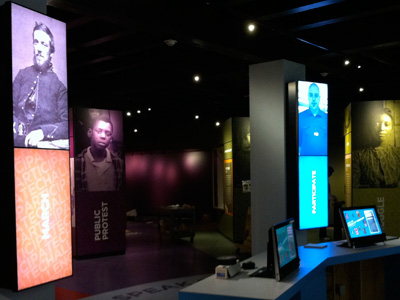 Designs and hardware were provided by Group Delphi. I programmed the system, consulted on hardware tech specs, and assisted on-site with set up and testing at the museum.
Features:
Touch screen interface
Photobooth-style automatic image capture and processing
User photos stored & randomly supplied to column displays
Remote system management
Technology:
Flash/AS3 kiosk interface
Flash-based playback on display columns
PHP/MySQL backend
K1 Fitness Bootcamp Video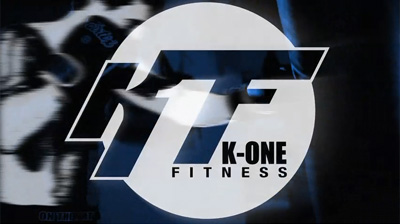 K1 Fitness is a local San Francisco gym specializing in training in a variety of combat sports - Boxing, Muay Thai (kickboxing) and Ju Jitsu. In addition to their normal classes they offer intense early-morning Boxing & Muay Thai bootcamps - 6am five days a week for four consecutive weeks.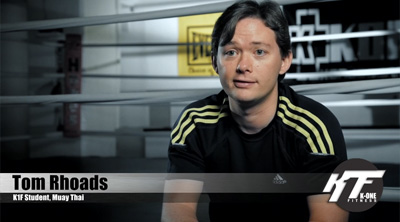 K1's focus is on fitness rather than fighting - using the intense training & discipline common to combat sports as a means for ordinary people to achieve their fitness goals. Part of their marketing challenge is conveying this to potential customers who might be intimidated by the notion of going to a 'fighting' gym.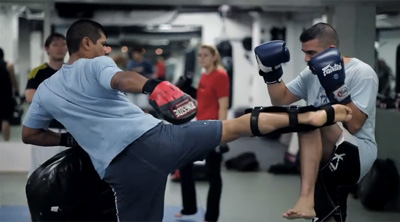 To help them achieve this I produced a short video of current students discussing their own fears entering the class, their experience in the class, and the results they have seen after participating in the bootcamps. I handled all aspects of the production myself - lighting & shooting the interviews, editing, color correction and graphics.
Click here to watch the video now.
Technology:
Cameras: Canon 5DmkII (DSLR)
Final Cut Pro & Apple Color
Adobe After Effects
Dual system sync sound via Pluraleyes
Medtronic STS Face to Face
Working with Group Delphi I developed a dynamic media display system for Medtronic's booth at the Society of Thoracic Surgeons annual conference.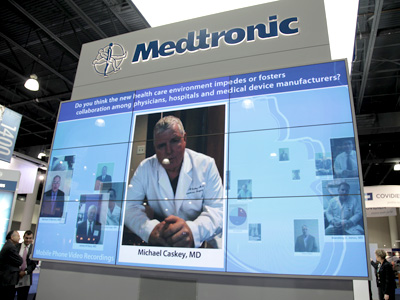 Throughout the conference representatives at the booth asked attendees a question about the current health care environment and recorded their responses on an iPhone. The videos went into a database where they could be reviewed for legal approval. Once approved they were automatically added to an animated randomized playback system on a 3x3 plasma wall.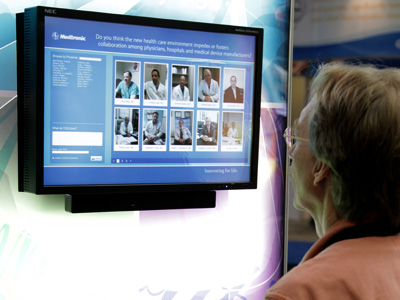 In addition to the large display I built a kiosk interface which allowed attendees to browse and view the videos on demand, as well as input their own text-based answer to the question.
Designs and hardware were provided by Group Delphi, I programmed the system, consulted on hardware tech specs and provided on-site support for set up and operation.
Technology:
Dynamic Flash (AS3) animation on large screen
HTML/CSS/JS kiosk & administrative interface
PHP/MySQL backend (Symfony framework)
Ribbit Idea Wall
The Ribbit Idea Wall is a place for developers and users to share ideas for potential solutions which could be built using Ribbit's internet telephony platform.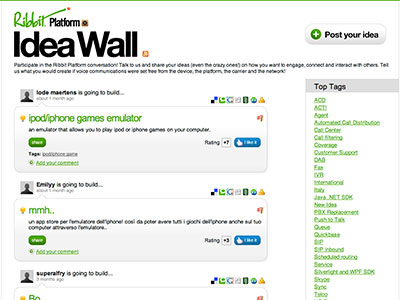 I designed and built the backend, front-end javascript (design & XHTML/CSS by Splinteractive) as well as the EC2 host server.
Features:
Ideas can be rated, tagged, flagged, commented on and shared (via email & social networks)
Top rated ideas are highlighted on site
User ideas can be 'claimed' by developers who are interested in building them
Backend admin allows moderation of posted ideas and email notification of flagged items
Technology:
PHP/MySQL backend (Symfony framework)
Hosted on custom Amazon EC2 instance
Ribbit for Salesforce Overview Video
When Ribbit - "Silicon Valley's First Phone Company" - launched their new Salesforce application I put together an overview video to introduce users to the features and functionality of the application.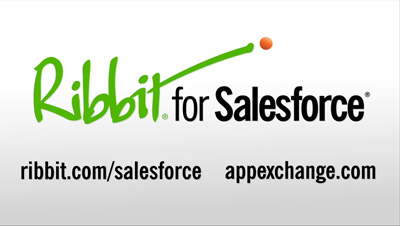 Working on tight deadline and budget meant we couldn't shoot much video, so I built the entire video using stock photography and simple animation built in Adobe After Effects.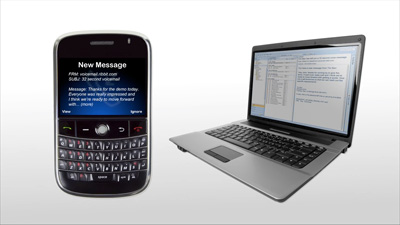 I also provided the narration myself, which let us quickly revise & re-record the script as the project progressed.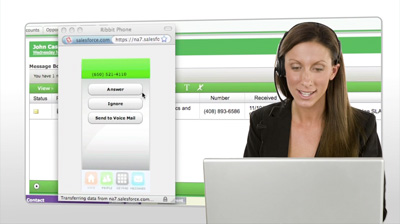 Click here to watch the video now
Big Picture Media & Events Website
Big Picture is a corporate event & media production company - I have worked extensively with them over the past decade on a variety of interactive and event media projects.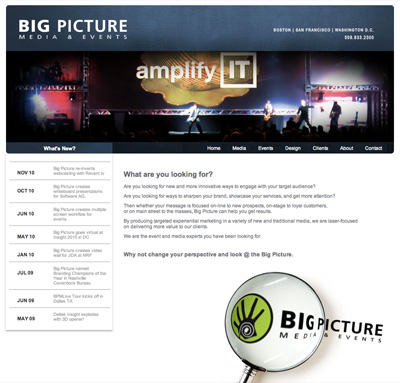 They recently completed a full website redesign and decided they wanted to move from static files to a content management system. Rather than design their content around the structure of an existing system they had me build a simple customized solution based on their design and layout.
Features:
Simple user administration of:
Pages, News, & Portfolio Items
Custom flash banners
Technology:
PHP/MySQL on Symfony framework
XHTML/CSS/JS & Flash front-end
software AG ProcessWorld OnDemand
ProcessWorld is an annual event produced for software AG by Big Picture Media & Events. For the 2010 event I built a custom online portal for the on-demand video & audio archives of all presentations at the event.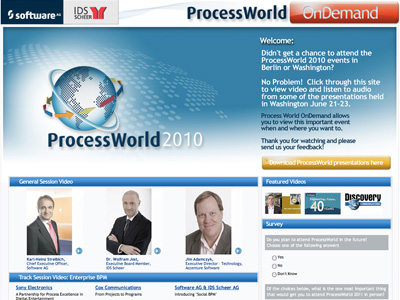 Features:
Streaming audio & video
Visitor survey
Technology:
PHP/MySQL on Symfony framework
CSS/XHTML front-end
Flowplayer
Amazon EC2 & Cloudfront
CoStar for Retail Demo
Working with Big Picture Media & Events I helped produce several interactive demos over the past few years for the CoStar website. These demos combined flash animation with live video and interactive navigation. The retail demo gives an overview of CoStar's product offerings for customers seeking commercial real estate.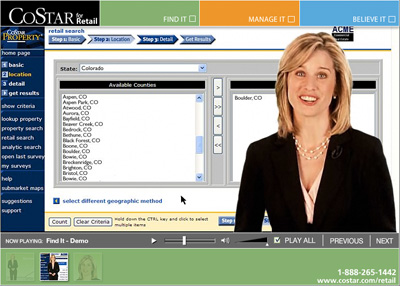 Big Picture provided the design as well as green screen footage of the host. I composited the footage, provided all animation for the background Flash, and programmed the interface to allow non-linear access to the content. Building in Flash allowed us to also deliver a version for distribution on business-card CD-ROMs with minimal additional work.
Click here to watch the demo now
Technology:
Flash & Actionscript
Adobe After Effects
Ribbit Amphibian Demo
Coming soon!